Best Neurologist in India
Neurology is the branch of medicine that deals with disorders of the nervous system, which include the brain, blood vessels, muscles and nerves. The main areas of neurology are: the autonomic, central and peripheral nervous systems. A physician who works in the field of neurology is called a neurologist; a neurosurgeon treats neurological disorders via surgery.
Neurological disorders often differ between infants and young children and adults. Neurological problems in those younger than 18 years are managed by paediatric neurologists. Disorders that affect the paediatric population include: cerebral palsy, complex metabolic diseases, epilepsy, learning disabilities, and nerve and muscle diseases.
Diagnosis and treatment :
A neurologist is trained to diagnose and treat neurological disorders. Neurologists must first determine if a problem exists in the nervous system. The patient's health history is reviewed followed by a neurological exam which assesses the function of cranial nerves, coordination, mental status, sensation, strength and reflexes.
Once a diagnosis is developed, more tests may be warranted to guide treatment. Diagnosis is carried out by tests such as the computed axial tomography scan, magnetic resonance imaging, electroencephalography or electromyography.
Neurological disorders are comprised of brain cancer, multiple sclerosis, spinal cord disorders, diseases that affect the muscles and peripheral nerves and neuromuscular junctions.
Some of the conditions a neurologist treats are:
Alzheimer's disease
Amyotrophic lateral sclerosis (ALS or Lou Gehrig's disease)
Back pain
Brain and spinal cord injury or infection
Brain tumor
Epilepsy
Headaches
Multiple sclerosis
Parkinson's disease
Peripheral neuropathy (a disease that affects your nerves)
Pinched Nerves
Seizures
Stroke
Tremors (uncontrollable movements)
Diagnostic Tests:
The neurologist may have a good idea of your diagnosis from the exam, but you'll probably need other tests to confirm it. Depending on your symptoms, these might include:
Blood and urine tests to look for infection, toxins, or protein disorders.
Imaging tests of the brain or spine to look for tumors, brain damage, or problems with your blood vessels, bones, nerves, or discs.
A study of your brain function called an electroencephalograph, or EEG. This is done if you're having seizures. Small patches, called electrodes, are put on your scalp, and they're connected to a machine by wires. The machine records the electrical activity in your brain.
A test of the communication between a nerve and the muscle it works with called an electromyogram, or EMG. This is done with electrodes on your skin or a needle put into a muscle.
A series of tests called evoked potentials to measure your brain's response to stimulation of your hearing, vision, and certain nerves. These are similar to an EEG except your doctor will make sounds or flash lights to see how your brain responds.
A small amount of fluid is taken from your spine to look for blood or infection. This is called a spinal tap or lumbar puncture.
A muscle or nerve biopsy to look for signs of certain neuromuscular disorders. A small amount of tissue is taken and looked at under a microscope.
Neurological Check Up :
Mental status
Speech
Vision
Strength
Coordination
Reflexes
Sensation (ability to feel things)
Nervous System:
Fibers called nerves carry important messages back and forth between your body and your brain. That network  your nervous system has two parts:
Your brain and spinal cord make up your central nervous system.
The nerves in the rest of your body make up your peripheral nervous system.
Everything your body does is connected in some way to your nervous system. It tells your heart to beat. It tells your lungs to breathe. It controls the way you move, the words you say, and how you think and learn. It also controls your senses and memories.
How Does It Work?
The messages travelling in your nerves are sent through billions of nerve cells called neurons. The spaces between these cells are called synapses. The cells are linked to one another through chemicals called neurotransmitters that move across the synapses to the next neuron. Dopamine and serotonin are types of neurotransmitters.
This process continues until the message gets to the right place. Some messages move faster than 200 miles per hour.
What Conditions Can Affect Your Nervous System?
Your nervous system has lots of protection. Your brain is guarded by your skull, and your spinal cord is shielded by small bones in your spine (vertebrae) and thin coverings (membranes). They're both cushioned by a clear fluid called cerebrospinal fluid.
Still, things can go wrong with your nervous system just like any other part of your body. When a disorder damages it, that affects the communication between your brain, your spinal cord, and your body. Examples of these disorders include:
Infections like meningitis, encephalitis, or polio
Physical problems like an injury, Bell's palsy, or carpal tunnel syndrome
Conditions like Parkinson's disease, multiple sclerosis, or Alzheimer's disease
Issues with your blood vessels, like strokes, transient ischemic attacks (TIAs), or subdural hematoma (when blood collects outside your brain, typically after a serious head injury).
Major Three Common Disorders
1. Brain Stoke
What is brain stoke?
A stroke in brain occurs when the blood supply to the brain is disrupted which lead cells to die.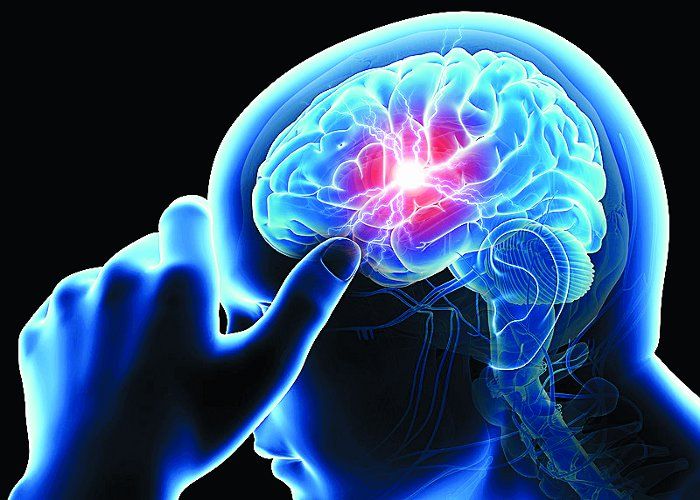 Brain stroke is divided into two types :
Ishemic Stroke : This stroke is caused by a blocked artery. With this stroke patient suffers with paralysis.
Hemorrhagic stroke : The blood outflow in the brain known as hemorrhagic stroke.
2. Epilespy

What is Epilespy?
Epilepsy is a central nervous system (neurological) disorder in which a person has recurrent seizures. A seizure leads to abnormal, unusual behavior, sensations and loss of consciousness.
3. Migraine

What is Migraine ?
Migraine are the intense headache and sensitivity to light and sound. Migraine can be caused by various factors such as change in hormones, stress, strong odour and certain food.
Frequently asked questions Neurology:
What does a neurologist treat you for?
The board certified neurologists provide diagnosis and treatment of epilepsy, Multiple Sclerosis, Myasthenia Gravis, sleep disorders, headaches, strokes, tumors related to the brain and spinal cord, movement disorders such as Parkinson's disease, and diseases related to the muscles.
Why would you need to see a neurologist?
Neurologists are doctors who diagnose and treat problems with the brain and nervous system. They don't do surgery. Your doctor might recommend that you see one if he thinks you have an illness that needs expert care. Brain and spinal cord injury or infection.
What are the symptoms of a neurological disease?
Physical symptoms of neurological problems may include the following: Partial or complete paralysis. Muscle weakness. Partial or complete loss of sensation.
What are the symptoms of a neurological disease?
Physical symptoms of neurological problems may include the following: Partial or complete paralysis. Muscle weakness. Partial or complete loss of sensation.
What are the top three common nervous system disorders?
Nervous system diseases
Alzheimer's disease. Alzheimer's disease affects the brain functions, memory and behaviour. …
Bell's palsy. Bell's palsy is a sudden weakness or paralysis of facial muscles, usually on one side of the face. …
Cerebral palsy. …
Epilepsy. …
Motor neurone disease (MND) …
Multiple sclerosis (MS) …
Neurofibromatosis. …
Parkinson's disease.
Do neurologists treat anxiety?
Can a neurologist diagnose mental illness?
What foods are bad for the nervous system?
How do you diagnose a neurological disorder?
Can stress and anxiety cause neurological symptoms?
How do you know when something is wrong with your brain?
Is neurological disorder curable?
What are some examples of neurological disorders?
What can cause neurological problems?
What happens if your nervous system is damaged?
What do nerve conduction studies diagnose?
What foods strengthen nerves?
Most Common Neurological Disorders in Children
Now, It's high time to talk on neurological disorders in children
Children who suffer from a neurological disorder is due to dysfunction in any part of the brain. Disorders lead to the development of the brain.The symptoms may reflect physical as well as psychological.
Disorders are identified into following classification
1. Genetic Disorders: Some disorders are genetic which are pass down from parents to their children via genes
2. Neurotoxins: Neurotoxins are harmful substances which influence fetal mental health during pregnancy. These toxins caused by alcohol, lead, mercury and certain food intake. As a result, the newborn babies may face intellectual or behavioral issues.
3. Hypoxia: This is a condition which causes damage to the brain due to low oxygen supply. It may occur during the fetal development during pregnancy.
4. Postnatal Infections: As the name suggest postnatal infection. In this disorder, Children faces dysfunction after their birth such as memory issues, speech impairments and behavioral problems.
5. Injury: Injury caused by an accident which damage any part of the brain may suffer from disorders.
Best Neurology Hospitals in India
Indraprastha Apollo Hospital New Delhi
BLK Super Specialty Hospital New Delhi
IBS Institute of Brain and Spine, New Delhi
Fortis Escorts Hospital New Delhi
Max Super Speciality Hospital, Saket, New Delhi
Sir Ganga Ram Hospital, New Delhi
Manipal Hospitals Dwarka, Delhi
Moolchand Hospital
Max Hospital Shalimar Bagh
Fortis Hospital, Shalimar Bagh, New Delhi
Kokilaben Dhirubhai Ambani Hospital, Mumbai
Neurogen Brain and Spine Institute, Mumbai
Sir HN Reliance Foundation Hospital, Mumbai
Fortis Hospital, Mulund, Mumbai
Nanavati Super Specialty Hospital, Mumbai
Jaslok Hospital, Mumbai
New Age Wockhardt Hospital, Mumbai
Global hospital Mumbai
Saifee Hospital, Mumbai
Breach Candy Hospital, Mumbai
Apollo Gleneagles Hospital, Kolkata
AMRI Hospital, Kolkata
Fortis Hospital, Kolkata
Calcutta Medical Research Institute, Kolkata
Woodlands Hospital Kolkata
Apollo Hospitals, Greams Road, Chennai
Global Hospital Chennai
Fortis Malar Hospital ,Chennai
Dr. Rela Institute and Medical Centre, Chennai
Vijaya Hospital, Chennai
Sri Ramachandra Medical Centre, Chennai
MIOT International, Chennai
SIMS Hospital, Chennai
Billroth Hospital, Chennai
Fortis Memorial Research Institute, Gurgaon
Artemis Hospital Gurgaon
Medanta – The Medicity Hospital, Gurgaon
Max Super Specialty Hospital Gurgaon
Paras Hospitals, Gurgaon
W Pratiksha Hospital, Gurgaon
Rockland Hospital, Manesar, Gurgaon
Columbia Asia Hospital, Palam Vihar, Gurgaon
Fortis Hospital, Bangalore
Narayana Multispeciality Hospital, Bangalore
BGS Gleneagles Global Hospitals, Bangalore
Apollo Hospital, Bangalore
NIMHANS National Institute of Mental Health and Neurosciences, Bangalore
Apollo Spectra Hospital, Bangalore
Hosmat Hospital, Bangalore
Sparsh Hospital, Bangalore
Brains Neuro Spine Centre, Bangalore
Columbia Asia Hospital, Bangalore
Global Hospitals, Hyderabad
KIMS Hospital, Hyderabad
Care Hospitals, Banjara Hills, Hyderabad
Star Hospitals, Hyderabad
Nizam's Institute of Medical Sciences, Hyderabad
Aster Prime Hospital, Hyderabad
Dr. Chandran Gnanamuthu –  is a Neurologist in Bannerghatta Road, Bangalore and has an experience of 37 years in this field.
Dr. B.P. Mruthyunjayanna is a renowed best neurologist in India for child  with 53 years experience. He carries rich experience of 5 decades as an expert. He consults at Bhagwan Mahaveer Jain Hospital in Millers Road, Bangalore.
Dr. Ashok Kumar Singhal works at NIMHANS with vast experience.
Dr. Vikram Kamath V works at Apollo Hospital Bangalore
Dr. P. N. Renjen is a leading and popular Neurologist in India. He has experience of more than 3 decades. Works at Apollo Hospital Delhi.
Dr. Nilesh M. Bhandari is Pune based Neurologist Bhandari has an experience of 14 years. He is a popular neurologist in Pune, India. He practices at Apollo Clinic and Poona Hospital and research Centre.
Dr. Dinesh Nayak is a Neurologist in Adyar, Chennai and has an experience of 26 years in this field. 
Dr. Uday Murgod works as a Consultant Neurologist at the Manipal Hospital, Bangalore
Dr. Vikram Sharma is Neurologist at Continental Hospitals. He has several years of experience in the field of Neurology with interest in Stroke and General Neurological disorders.
Dr Reena Thukral is the most searched neurologistwith 22 years experience. She is considered as best neurosurgeon in Gurugram, Haryana. Her speciality lies in with brain stroke, migraine, epilepsy, multiple sclerosis, Parkinson's disease and other neurological disorders.
Dr. Sanjiv C.C. is a renowed Parkinson disease specialist and neurologist in Bangalore who has more than 17 years of experience in neurology and clinical practice. Dr. Sanjiv is currently working as the senior neurologist consultant in Apollo hospitals in Bangalore.
Dr. S. Shashank is a renowed neurologist with an experience of 16 years. He is considered as best neurologist in india for child. He consults at Dr Shashank Neuro Center in Ghatkopar East, Mumbai.
Dr. Sushil Tande is a neurologist with an experience of almost 2 decades. He practices at Mumbai
Dr Pawan Ojha is a neuro physician consultant at Fortis Hiranandani Hospital, Vashi, Navi Mumbai with 14yrs experience.
Dr. Ish Anand is a renowed Neurologist with an experience of more than 3 decades. He is regarded as one of the top 10 neurologist in Delhi. His interest lies in the field of Epilepsy, Stroke, Headache, Spodylosis, Low Backache, Nerve and Muscle.
Dr. Rajiv Anand is one of the most popular neurologist in Pachim Vihar, Delhi. He is an active member of American Academy of Neurology and Medical Council of India. He has a vast clinical experience of 35 years.
Dr Rajesh Garg is a Delhi based neurologist and one of the top neurologist in India. He has experience of more than 30 years. He is an alumnus from All India Institute of Medical Sciences (AIIMS)
Dr Krishnan, the Bangalore based specialist is one of the best neurologist in India. He carries experience of 24 years.
Dr. Arvind Bhateja is a renowed neurologist as well as surgery expert from Bangalore. He has experience of over 2 decades. He has handle more than 3000 surgeries till now. He consults at Sita Bhateja Speciality Hospital, Bangalore.
Email: Contact@ExpertChikitsa.com
Call OR WhatsApp: +91 8095504033