IVF in India:
India is the best hub for infertility treatment with Good success rate :
What is IVF ?
In-vitro-Fertilization (IVF) is a common infertility treatment. During the procedure, a fertility doctor takes the eggs from the ovaries using a small needle and fertilizes them with sperm in a specialized lab. After fertilization happens, the eggs develop into embryos. Three to five days later, the specialist re-implants the embryos back into the uterus.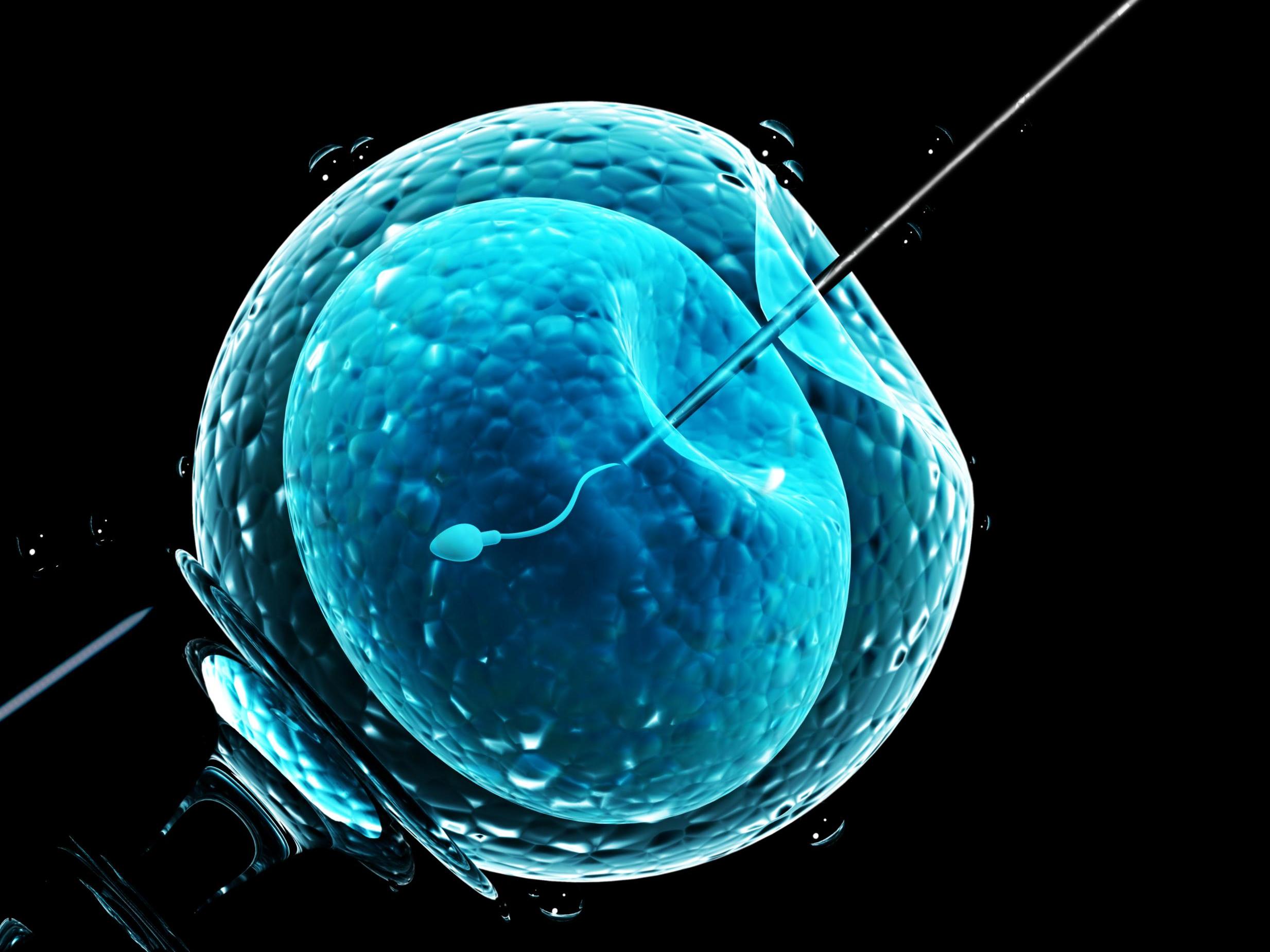 IVF is most suitable for couples who desperately want to become parents but none of the conventional approaches to managing infertility have worked for them so far.
IVF, also known as test tube baby, can be defined as one of the medical treatment useful for the couples who are dealing with the fertility problem.
Why is IVF used?
IVF can be used to treat infertility in the following patients:
Blocked or damaged fallopian tubes
Male factor infertility including decreased sperm count or sperm motility
Women with ovulation disorders, premature ovarian failure, uterine fibroids
Women who have had their fallopian tubes removed
Individuals with a genetic disorder
What is involved with in vitro fertilization?
There are five basic steps in the IVF and embryo transfer process:
Step 1: Fertility medications are prescribed to stimulate egg production. Multiple eggs are desired because some eggs will not develop or fertilize after retrieval. A transvaginal ultrasound is used to examine the ovaries, and blood test samples are taken to check hormone levels.
Step 2: Eggs are retrieved through a minor surgical procedure that uses ultrasound imaging to guide a hollow needle through the pelvic cavity to remove the eggs. Medication is provided to reduce and remove potential discomfort.
Step 3: The male is asked to produce a sample of sperm, which is prepared for combining with the eggs.
Step 4: In a process called insemination, the sperm and eggs are mixed together and stored in a laboratory dish to encourage fertilization. In some cases where there is a lower probability of fertilization, intracytoplasmic sperm injection (ICSI) may be used. Through this procedure, a single sperm is injected directly into the egg in an attempt to achieve fertilization. The eggs are monitored to confirm that fertilization and cell division are taking place. Once this occurs, the fertilized eggs are considered embryos.
Step 5: The embryos are usually transferred into the woman's uterus three to five days following egg retrieval and fertilization. A catheter or small tube is inserted into the uterus to transfer the embryos. This procedure is painless for most women, although some may experience mild cramping. If the procedure is successful, implantation typically occurs around six to ten days following egg retrieval.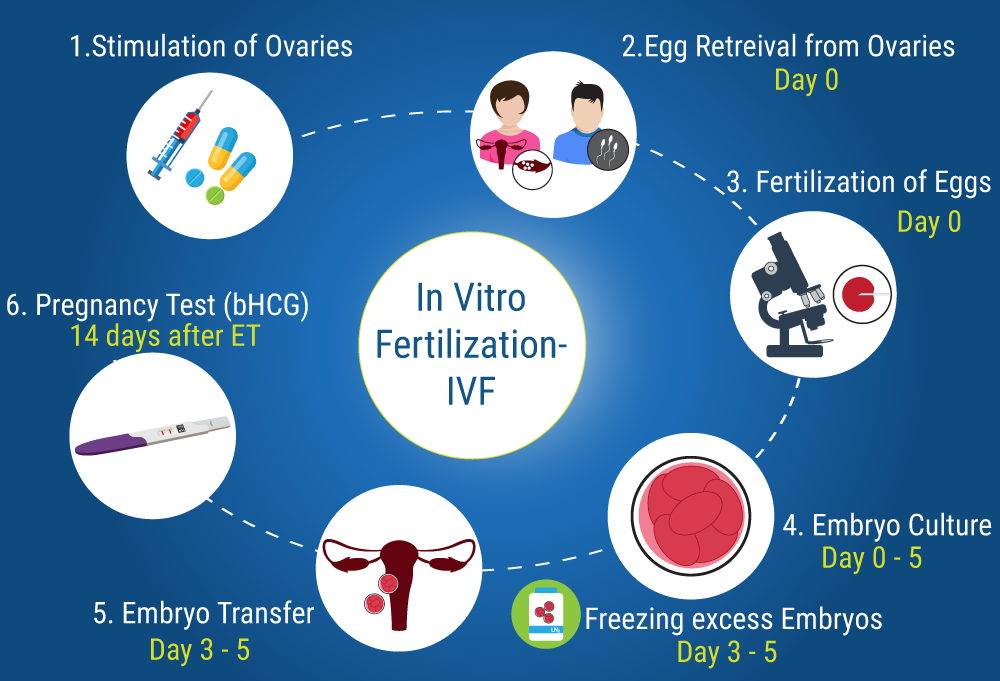 How many embryos should be created or transferred?
The number of embryos transferred typically depends on the number of eggs collected and maternal age. As the rate of implantation decreases as women age, more eggs may be implanted depending on age to increase the likelihood of implantation. However, a greater number of eggs transferred increases the chances of having a multiples pregnancy. Make sure to talk with your doctor before the procedure so you both agree on how many embryos to implant.
What is the benefit of IVF treatment in India?
Hospitals in India provides  world-class treatment of IVF at an affordable cost. Patients are paying half of the value of what they are paying in western nations. It is possible because of
Availability of latest medical technology, specialized doctors, para-medical staff, constant upgradation of technology and equipment.
Best Infertility Treatment with the help of the doctors who has several years of experience in IVF treatment.
Affordable treatment cost.
Consultants to help international patients to find the best IVF centers.
There are many medical staff who can communicate properly with the international patients in English/Translator.


How successful is IVF?

The success ratio rate for IVF depends on the age of the woman, cause of infertility, years of infertility, type of embryo transfer, quality of the sperm and whether self-eggs or donor eggs were used. The success rate is higher when frozen embryos are used as opposed to fresh embryos. Success is higher in younger women, so even when a woman has an embryo transfer, say in her 40s with embryos that were created when she was in her 30s, her chance of success is that of a woman in her 30s. Frozen cycles tend to have a higher success rate as the embryos that survive the thawing process will be more robust, resulting in higher chances of achieving a pregnancy. Donor eggs likewise come from a younger donor who is medically fit and hence tends to give better success rates. Better the sperm quality better the success rate.

Success in IVF is measured in various parameters for audit purposes. The fertilisation rate, implantation rate, clinical pregnancy rate, take home baby rate etc. Of significance is the live birth rate as this is the chance that any couple having treatment will take a baby home. Irrespective of the age of the patient, a live birth rate of around 30% is considered as gold standard around the world.
What are the risks associated with in vitro fertilization?
As with most medical procedures, there are potential risks. More severe symptoms, typically from OHSS, include the following:
As with most medical procedures, there are potential risks. More severe symptoms, typically from OHSS, include the following:
Nausea or vomiting
Decreased urinary frequency
Shortness of breath
Faintness
Severe stomach pains and bloating
Ten-pound weight gain within three to five days
If you experience any of these symptoms above, contact your doctor right away.
| | | | | |
| --- | --- | --- | --- | --- |
| Age | Initiated | Retrievals | Transfers | Clinical Pregnancy Rate per Embryo Transfer (CPR) |
| <35 | 41 | 38 | 35 | 71.4% |
| 35-37 | 31 | 28 | 24 | 45.8% |
| 38-40 | 37 | 37 | 31 | 25.8% |
| 41-42 | 27 | 27 | 17 | 29.4% |
| >42 | 39 | 39 | 24 | 4.2% |
The approximate per procedure cost in India:
| | |
| --- | --- |
| Procedure | Cost |
| IUI | Rs.10000.00 – Rs 15000.00 |
| IVF / ICSI | Rs. 150000.00 – Rs. 250000.00 |
| Donor Sperm | Rs. 10000.00- Rs. 12000.00 |
| Donor Egg | Rs. 35000.00 Rs. 45000.00 |
| Donor Embryo | Rs. 40000.00  Rs. 60000.00 |
| Frozen Embryo Transfer (FET) | Rs. 40000.00  Rs. 50000.00 |
| Embryo Preservation | Rs.30000.00 to Rs. 35000.00 (10000.00 to Rs. 15000.00 yearly) |
| Laser Assisted Hatching | Rs. 18000.00  Rs. 22000.00 |
| Blastocyst Culture & Transfer | Rs. 18000.00 Rs. 22000.00 |
What is the cost of IVF treatment in India?
IVF treatment is a procedure where the eggs and the sperm are mixed together manually in the laboratory and the resultant embryo is transferred to the uterus. IVF treatment is available in all major cities in India but the total cost of the treatment may vary from place to place in accordance with the expertise of the IVF doctor and the popularity and success rate of the IVF centre in India.
Generally, the IVF cost in India ranges between Rs. 150000.00 to Rs. 250000.00 per cycle. However, the cost of IVF at hi-end clinics may go up to Rs. 400000.00 per cycle. Even then the basic IVF cost in India is much less than the developed countries like the US where you will have to pay approximately $12000 (Rs. 840000.00) as compared to India where it is possible in just $3500 (Rs. 245000.00).
| | |
| --- | --- |
| Cities | Approximate IVF Cost per Cycle |
| Mumbai | Rs. 175000.00 – 300000.00 |
| Delhi | Rs. 175000.00 – 250000.00 |
| Chennai | Rs. 150000.00 – 200000.00 |
| Bangalore | Rs. 160000.00 – 200000.00 |
| Hyderabad | Rs. 140000.00 – 175000.00 |
| Pune | Rs. 140000.00 – 160000.00 |
Best IVF Centre in India:
1. Delhi IVF & Fertility Centre:
Being in the center of the capital of India, Delhi IVF & Fertility Centre is easily accessible by various means of transport and are developing as one of the best IVF Centre in India and destination.Since it came into existence, their aim is to ensure quality medical care to the couples who are struggling to find a solution to their infertility using the latest IVF technique in the safest way.
Address: Todar Mal Lane, Bengali Market, Opposite Nathu Sweets, Near Mandi house metro station, Todermal Road Area, Mandi House, Delhi 110001, India
2. ISWARYA WOMEN'S HOSPITAL & FERTILITY CENTRE, Chennai:
Iswarya Fertility Centre is one of the top IVF centre in Chennai evolved over the years. Since its founding, it provides specialist healthcare including Gynaecological, Maternity, Infertility and Neonatal care.Now, the hospital has become a referral center providing medical services to handle high-risk conditions in women at an affordable price.
Address: 1st Main Road, Kasturbai Nagar, Opposite Sangeetha Hotel, Adyar, Chennai, Tamil Nadu 600020, India3. Nova IVI Fertility Clinic:Being located in the centre of the city, Nova IVI Fertility clinic is one of the most successful IVF centre in Pune.It has exceptionally experienced specialists who have helped thousands of couples to fulfill their dreams of becoming a parent.Nova IVI Fertility Clinic is the one of the best IVF centre in India which is widely popular for the fertility treatment.
Address: Opposite Sanas Sports Club, Near Sarasbaug, Swargate, Pune, Maharashtra 411030
4. MOMSOON Fertility & IVF Centre, Bangalore:
This is the best IVF centre in Bangalore which helps the couples in fulfilling their dreams of becoming a parent by offering a wide range of treatment procedures and services and appreciate the diverse needs of international patients.
Address: Geetha Colony, 4th T Block East, 4th Block, Jayanagar, Bangalore, Karnataka 560011, India5.
5.Hedge Fertility & IVF Center, Hyderabad:
Hedge,IVF centre in Hyderabad, is dedicatedly serving thousand patients around the globe. A group of embryologists, infertility consultants, and reproductive surgery specialists work together to provide patients a wide range of treatments. By gaining years of experience in fertility care, they are providing extreme care to the patients with the goal of being a center of excellence that is focused to bring latest technology.
Address: Vittalrao Nagar, Madhapur, R.R. District, Hyderabad 500081, India
6. Indira IVF Delhi:
Indira IVF Center is one of the prestigious IVF centre in Delhi ensuring quality IVF treatment at competitive prices, so that people; irrespective of their social and financial backgrounds, can afford the treatment.
Address: South Patel Nagar, Near Patel Nagar Metro, Station, Delhi 110008, India.
7.Santati IVF Treatment & Fertility Centre, Mumbai:
Santati IVF centre in Mumbai is basically famous for providing excellent medical treatment. Starting from the consultation till the end of the treatment a team of experienced specialists guides the clients ensuring special attention and care.
Address: Mantranjali Bunglow, Devdaya Nagar, Thane West, Mumbai, Maharashtra 400610, India
8.Gaudium – IVF Centre, Delhi:
Being one of the effective IVF centers in Delhi, they are providing the best surrogacy services and IVF treatment at an affordable price to thousands of families across the world.
Address: Chander Nagar, Janakpuri West Metro Station, Delhi 110058, India
9.Tamara Hospital & IVF Centre, Bangalore:
Because of several years of experience in IVF, Tamara is considered as the best option for undertaking value treatments. They mainly focus on Fertility, Diagnostics, Pregnancy and Women Health. Being a large gynecological center, this IVF Centre in India is equipped with all the advanced facilities and latest equipment imported from the various places of India.
Address: Opp. Vardhaka Saradar Patel School, Rajajinagar, Bangalore, Karnataka 560010, India
10.Virk Fertility Services:
Virk Fertility Services is one of the best IVF centre in India offering complete infertility services and is known for their innovation, personalized services, and consistent willingness to accept the patients with the help of internationally acclaimed IVF specialists. As IVF treatment is stressful, they have three counselors who help patients at all stages of treatment.
Address: Guru Teg Bahadur Nagar, Near Guru Ravidass Chowk, Jalandhar, Punjab 144003, India.
11. GENOME – The Fertility Centre:
As a leading IVF center in India, GENOME – The Fertility Centre, offers world-class infertility treatments using the most advanced equipment and procedures, thereby attaining good levels of success. The Infertility specialists of Genome makes the treatment comfortable as well as affordable.
Address: Shakespeare Sarani, Beside Andhra Bank, Kolkata, West Bengal 700017
12. Medicover Fertility Panchsheel – IVF Treatment in Delhi:
Medicover Fertility Delhi is one of the world's best ivf center who has made conceiving easy for the infertile couples. Medicover is a healthcare company that helps people throughout Central and Eastern Europe to improve and sustain their health.
Address: Panchsheel Park, New Delhi, Delhi – 110017
13. Max Healthcare:
Max Healthcare is one of the best test tube baby centre in India assisting infertility and reproduction for couples seeking the need.
The hospital is a Super Specialty with a world-class team of medical professionals providing assisted hatching for egg and sperm fertilization outside of the body. It also offers treatments like optical spindle technique, blastocyst transfer, and surgical sperm retrieval.
Address: Press Enclave Road, Mandir Marg, Saket, New Delhi, Delhi 110017
14. Wellspring IVF & Women's Hospital:
As one of the best ivf centre in india, Wellspring offers all best services under one roof for the childless couple at an affordable cost by using advanced reproductive technologies.
The main reasons for the popularity of Wellspring IVF & Women's Hospital is the high success rate and other reproductive services in the Ahmedabad City.
Many international patients come every year to Wellspring IVF center, Ahmedabad, India with new hopes. The clinic has special division and team for International patients coming for IVF treatment in Ahmedabad, India.
Address: Anandnagar Road, Near Sachin Tower, Opp. Seema Hall, Anand Nagar, Ahmedabad, Gujarat 380015
15. ARC Fertility Hospital Coimbatore:
Over the past few years, ARC Research Centre has achieved maximum success in infertility. The center is equipped with state of the art IVF lab administering to world class treatments. The hospital is in continuous expansion and now restructured catering to international patients and treatments in various specialties.
Address: Avinashi Rd, Puliakulam, Coimbatore, Tamil Nadu 641037
16. Garbhagudi Hospital Bangalore : 
GarbhaGudi is known for its top-class treatment at affordable costs and unparalleled success rates. We have been able to replicate this successful model at all of our branches. Our expertise in handling infertility, our phenomenal success rates and our patient care has helped us to become one of the fastest growing chains of fertility hospitals in South India.
When you visit GarbhaGudi, you'll have access to the best minds in fertility treatment as well as the latest assisted reproductive technology. Our fully integrated network of care means; we take care of every step of your journey; for you from initial assessment, diagnosis, fertility treatment, advanced scientific techniques and counselling support.
Address : 210/A, 1st Floor, Subhasri Complex, Kumaraswamy Temple Rd, 2nd Block, Phase 1, Banashankari Stage I, Banashankari, Bengaluru, Karnataka 560050
17.Nova IVF Center Bangalore 
Nova IVI Fertility is India's leading chain of fertility centers, providing world-class fertility treatments. We believe in evidence-based treatment and transparency in all interactions with patients. We have brought in the world's most advanced technology, ensuring that all our services are cost-effective. Here are some more reasons for Nova IVI Fertility to be the best choice
Address : No. 869, Kade Complex, Dr. M.C. Modi Eye Hospital Road, West of Chord Road, West of Chord Road 2nd Stage, Stage 2, Basaveshwar Nagar, Bengaluru, Karnataka 560086